No one will talk about "El Alarma"
This is one of the stories behind the documentary Adentro, in the Youth Prison of Catalonia.
by - Pau Coll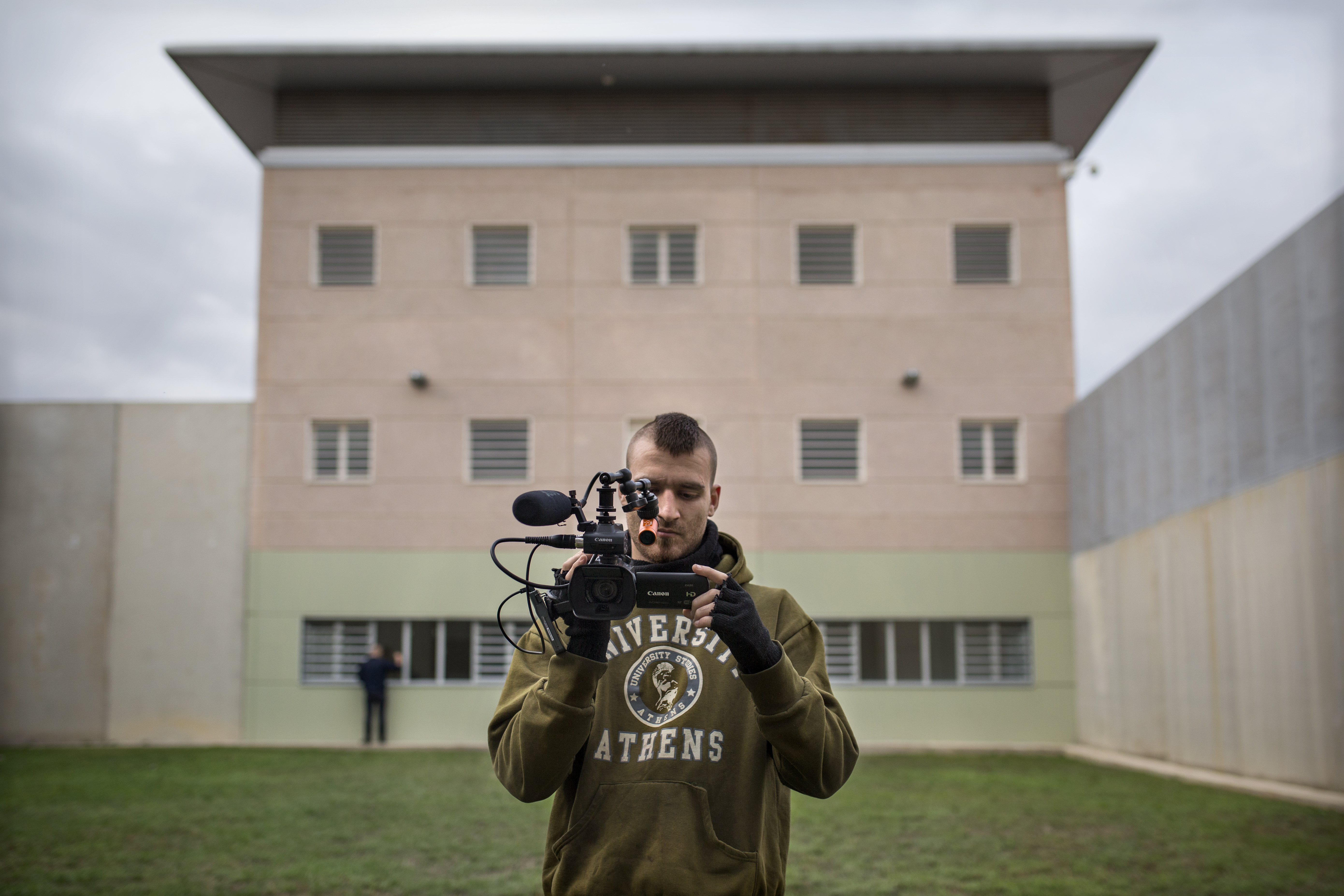 "It was last September 10. A companion from our module. They called him The Alarm. Not knowing exactly why, well, some people say he was going to be deported. But they say so much in here that you don't even know what's true anymore. The thing is, the kid killed himself, hung himself by the neck.
"Why, no one will know. Only God can know. And nothing, I wanted to say this to make it clear that people die here too. This is really shit, you know?"
"El Punky," a 21-year-old prisoner, looks straight at the camera. That's how the memory of his dead friend comes to his mind. "The Alarm" hanged himself with the sheets from the bunk of his cell, in module 3 of the Youth Prison Center of Catalonia.
"The Armenian" holds the camera and Soufian, "The Engineer," holds a pole with a microphone tied at the end of it, with very bad aim, trying to direct it toward "El Punky." In prison, proper names are only heard by public address. Together with a couple more inmates, this amateur filmcrew are in one of the secluded courtyards of the DAE (*). Unnecessary high concrete walls smother the place that is more reminiscent of the skylight of a high building than a courtyard to aerate after ten hours of lockdown.
As when someone dies in a prison, the suicide of "The Alarm" leaves a tense atmosphere throughout the center. Silence and despondency. Emotional balance is a fragile thing for the forced inhabitants of the place.
"The Alarm" was very young, his peers estimate about 20 years old. And he had a short sentence: two years and three months. Besides, he didn't have much else to lose. Three months after his sentencing, the judge wouldn't even have locked him up. This young Moroccan emigrated only to Spain. He no longer knew any family other than a brother imprisoned in Morocco.
He came alone and failed. His suicide came after a letter from the Foreign Ministry notifying him of his deportation. The path ahead was to finish the sentence, and without even taking steps as a free person, he would be transferred to the Internement Center for Foreigners in the Free Zone of Barcelona. In less than 60 days, he would be handed over to the Moroccan authorities and given an uncertain future. A path "The Alarm" did not want to choose.
This young man's story is one more among all the stories hidden in this prison. The rookie film crew wanted to tell the stories in a participatory documentary project in which, in a year, they discusses, screened and filmed a feature film about their own life experiences. The result, INSIDE, is an exercise to self-analyze and explain without the presence of external narrators, the lives of the people who have been deprived of their liberty.
"It's that, I don't want to detail, there's no more. You get up and they tell you everything that's happened. You see the truck coming in, it goes out, and it's all fucking tragedy. The module is in mourning. No one eats, no one laughs, no one listens to music...That's all happened and let the little boy rest in peace," "The Armenian" adds.
Apart from these lines, no one else will talk about "The Alarm." Without a family and dead in a foreign country, no one will remember anything else about this young immigrant who ended his days in a prison in Catalonia.
*DAEs (Specialized Care Departments) are prison modules where special attention is offered to inmates because of their vulnerability.